Long before the era of the performance trucks that sell like hotcakes since the early 2000s, GMC bought out the Syclone pickup in 1991 and then the Typhoon SUV in 1992. Today, it's commonplace to see a pickup truck take on a sports car and even beat it. Back then, when the GMC Syclone beat out a Ferrari 348ts and outpaced it, it was revolutionary.
Both GMC Syclone and Typhoon came in extremely limited production numbers. These GMC performance vehicles, along with the Dodge Lil' Red Express that came a few years back, changed the landscape of pickup trucks and SUVs forever. Today, when it comes to performance, it's the Ford F-150, Ram pickups, and the Chevy Silverado that comes to mind. Of course, performance EVs are not far behind, with the GMC Hummer EV, Tesla Cybertruck, and even the Rivian R1 taking the world by storm. So, let's take a moment and revisit the GMC Syclone and Typhoon, and remember why they are so cool in the first place.
10
The GMC Syclone Was Almost Buick Grand National Powered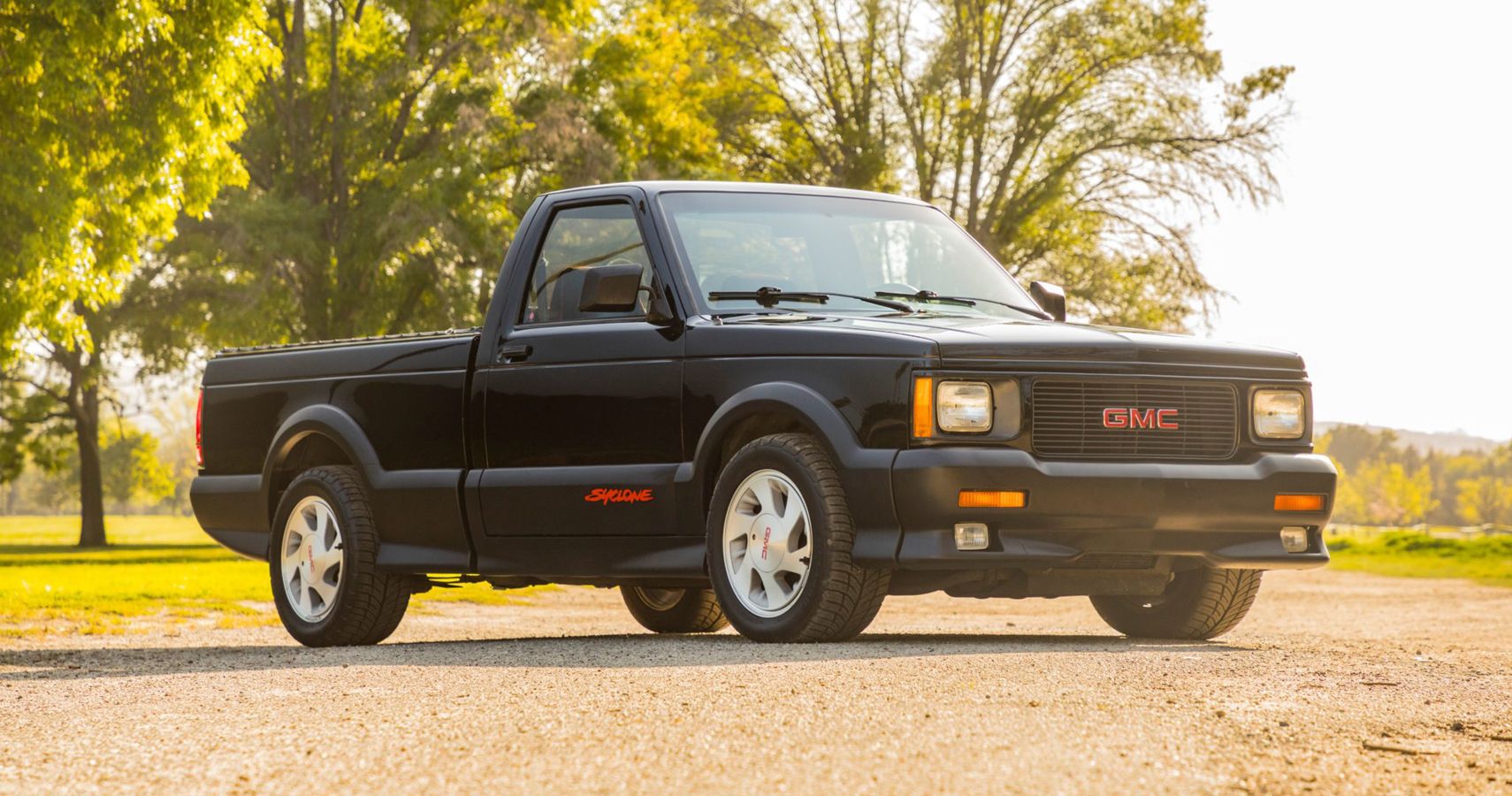 Back when Buick was phasing out the Grand National, in 1987, they wanted to give its turbocharged 3.8-liter V6 a last hurrah. So, Buick took a Chevy S10 (the GMC Sonoma's Chevy-badged twin) and put in the Grand National engine with fancy badging and a flared hood, and took it to all of GM for consideration.
Chevrolet refused because it had the SS 454 in the works, as did the rest of GM. Meanwhile, GMC loved the idea, but the only hitch was that the Grand National engine was way too expensive. Ultimately, Buick bowed out and GMC went off into another tangent, keeping the idea but changing the engine.
9
In 1991, The GMC Syclone Was The Fastest Accelerating Vehicle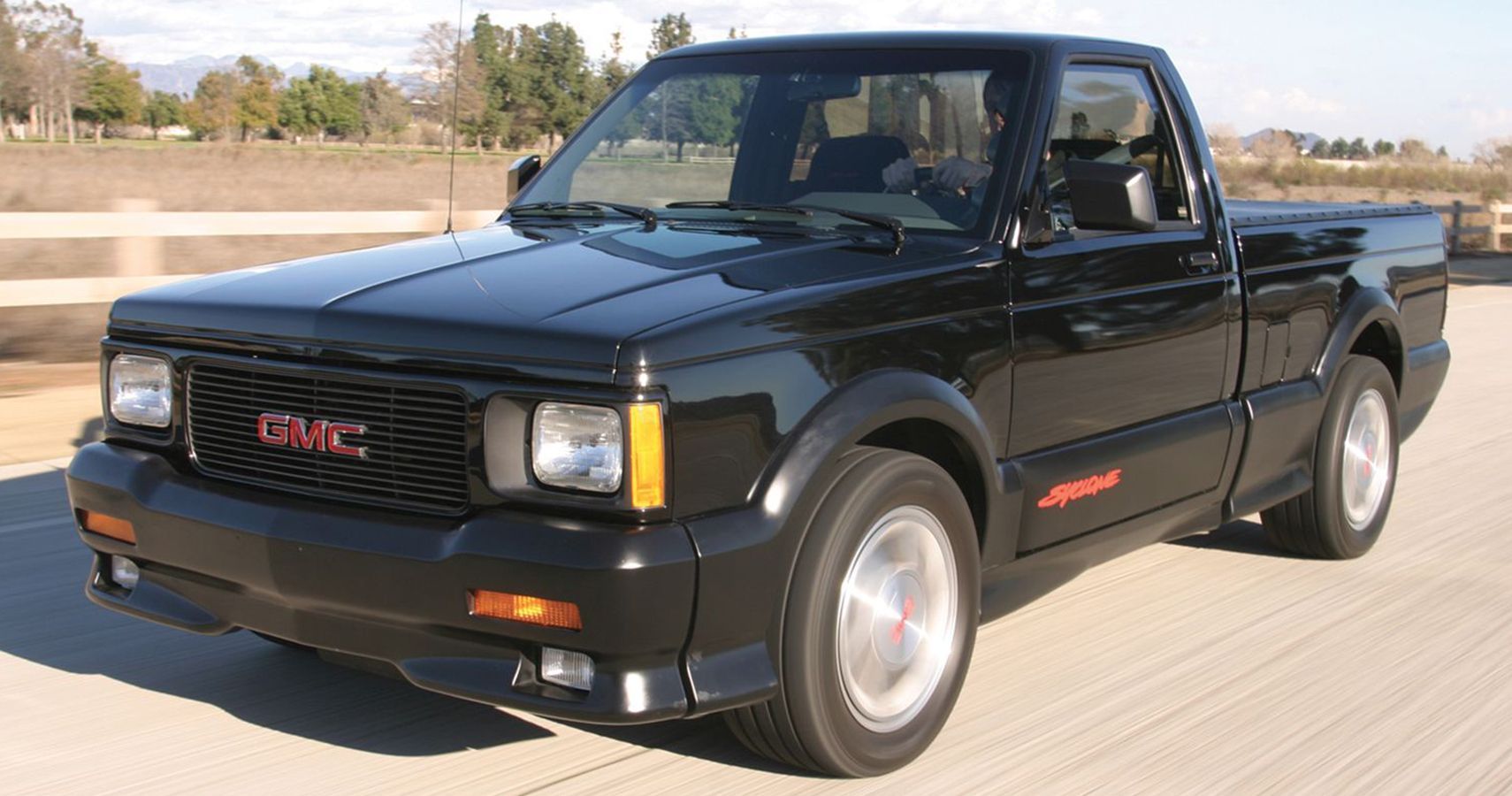 Ironically, while GMC did not go for the Grand National engine, the idea of a performance pickup took root. Ultimately, GMC chose an even bigger mill, a turbocharged 4.3-liter V6 that made 280 horsepower at 4,400 rpm and 350 lb-ft of torque at 3,600 rpm.
GMC claimed a sub-5.0 second 0-to-60 mph time for the Syclone which wasn't just crazy in 1991, for a pickup truck, but also made it the fastest accelerating vehicle for the year. Not even a Ferrari could match this prowess, as per Hemmings, given that GMC claimed the Syclone ran 0-to-60 mph in 4.6 seconds, and aced the quarter mile in 13.7 seconds.
Engine Specs:
| | |
| --- | --- |
| Engine | Turbocharged, inter-cooled push rod 12-valve V6 |
| Displacement | 4.3 liters |
| Horsepower | 280 hp |
| Torque | 350 lb-ft |
| Transmission | 4-speed automatic |
RELATED: 10 Reasons Why The GMC Syclone Needs To Make A Comeback
8
On Debut, The Syclone Thumbed Its Nose At The Porsche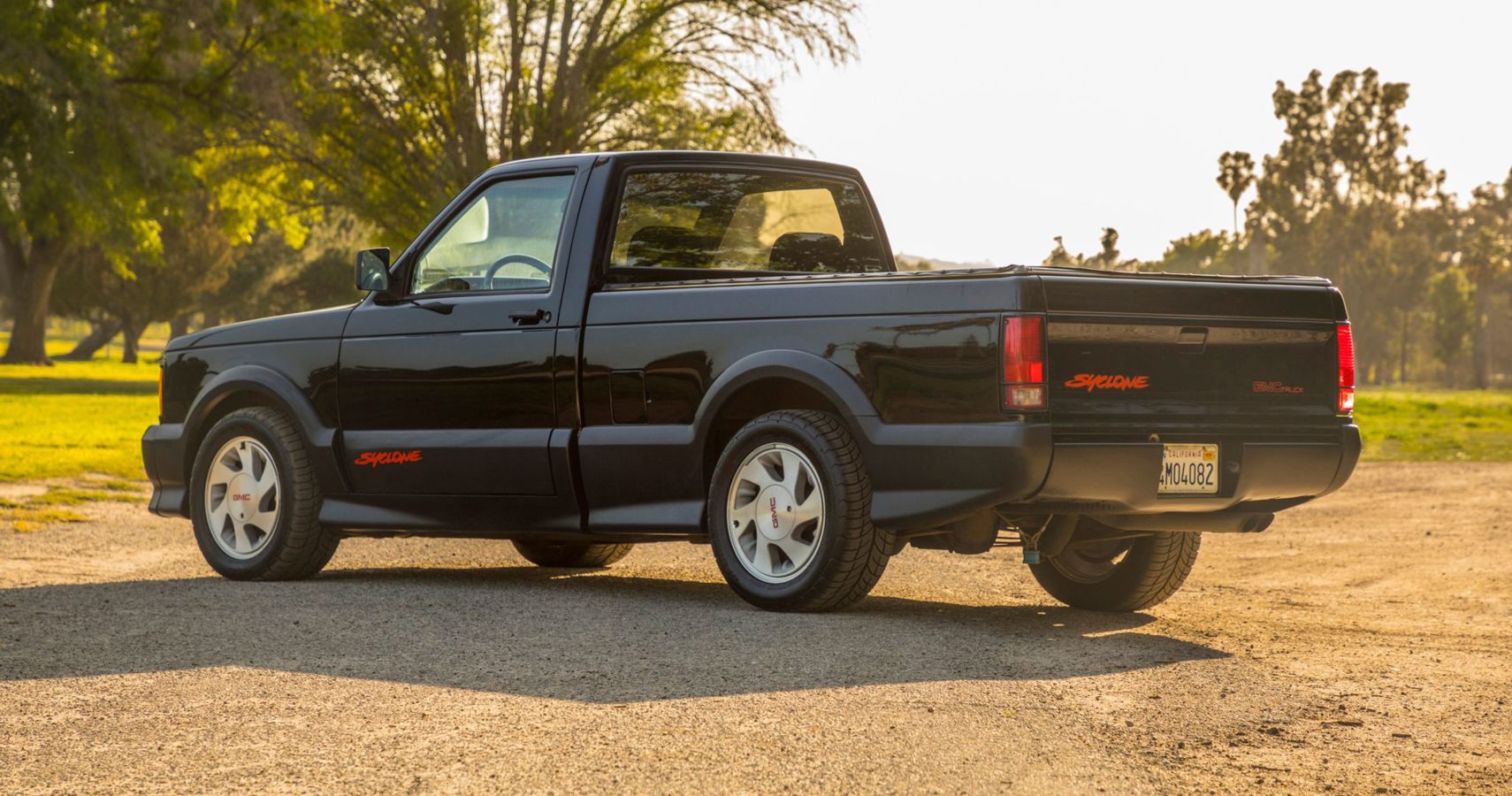 While it may have outrun a Ferrari, one GMC ad for the supercar slayer super truck Syclone compared it to a Porsche 911 Carrera, with the tagline, "Think of it as a Porsche 911 that really 'hauls.'"
Frankly, given that the Syclone carried a mere 500-pound payload capacity should have taken the bragging rights away, since GMC recommended no towing on it as well. But it was still a pickup truck and one of the fastest vehicles around as well, so GMC blew its own trumpet.
Fans also often wonder about the strange spelling of the name, but then again, the S in the Syclone might have been a nod to the Chevy Sonoma, because that's where its body came from. Also, there was already a Mercury Cyclone (Ford), so the explanation could be simpler.
7
The GMC Syclone And Typhoon Couldn't Go Off-Road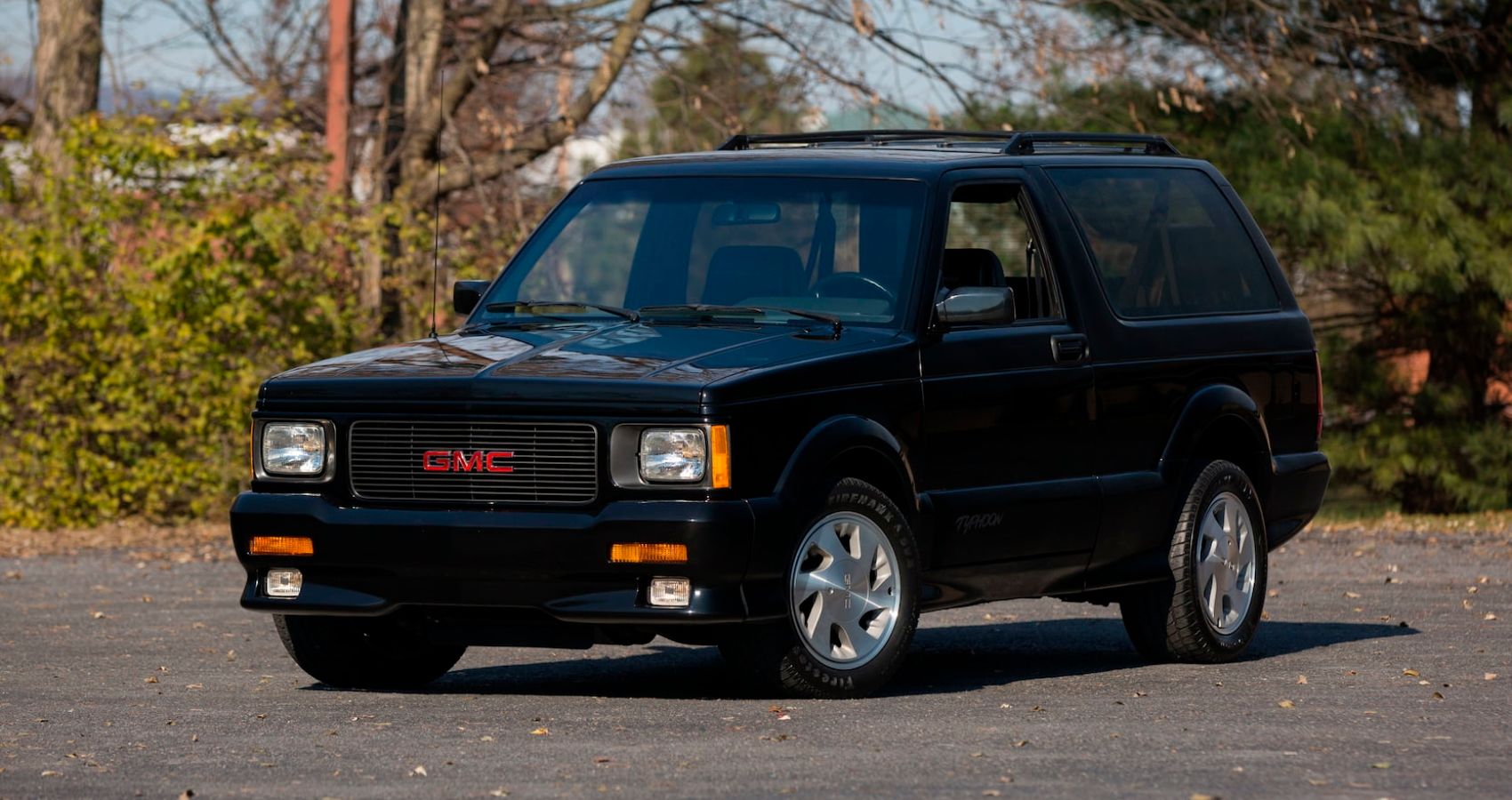 GMC put a warning metal plate in the Syclone's cab, ensuring the buyer never forgot that this was an on-road pickup truck with plenty of street cred, but no off-road chops. The notice read: "This vehicle is not intended for off-road use. The reduced height of this vehicle will not allow it to clear obstacles commonly encountered in an off-road environment. Off-road operations could result in serious damage to the chassis and drivetrain."
GMC made the Typhoon only marginally better with self-leveling rear suspension, which would inflate air bladders to counter rear-end sag when the SUV came cargo loaded. That said, it too had no off-road gumption.
RELATED: 10 Reasons To Consider Buying A Used GMC Syclone Today
6
GMC Did Not Actually Build The Syclone Or Typhoon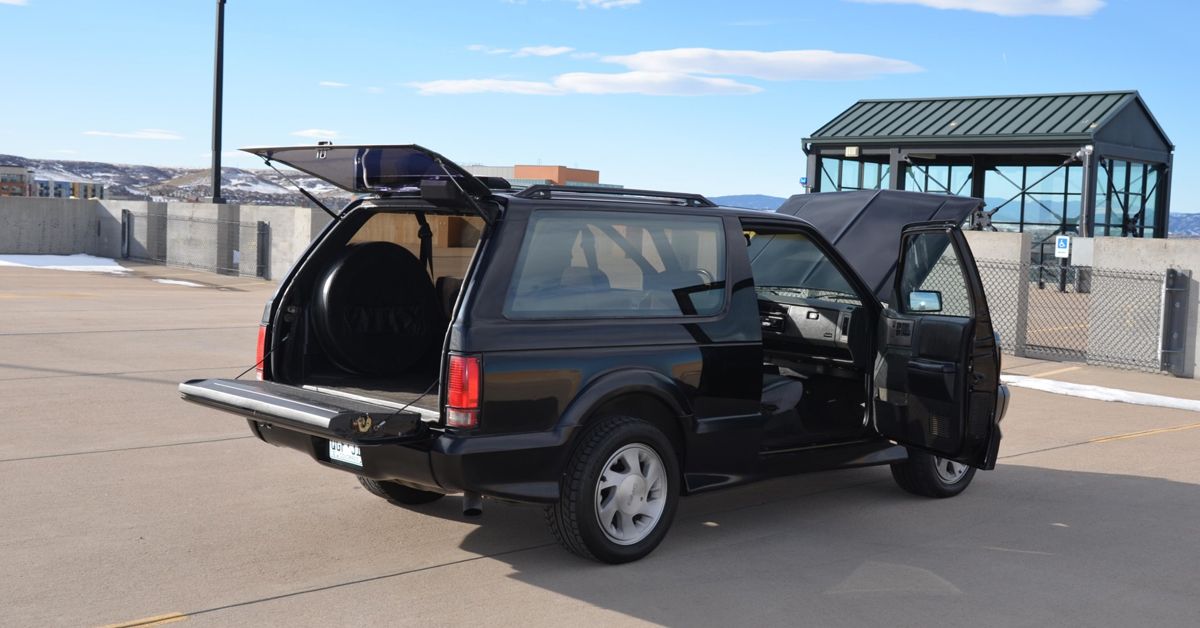 When it comes to building the Syclone, or even the Typhoon, GMC decided to outsource it all, given that they did not want to mess with performance. Production Automotive Services (1989-1994) in Troy, Michigan made both these vehicles, and the 1989 Pontiac Turbo Trans Am and the 1992 GMC Sonoma GT.
Another cool thing about both vehicles is that they had a bit of van life in them. GMC took the full-time all-wheel-drive BorgWarner transfer case from its Safari van (also known as the Chevy Astro). It let the engine split the torque by sending 65 percent to the rear axle and 35 percent to the front one, giving the GMC Syclone performance truck flying power. Interestingly, the gauge package came from the Pontiac Sunbird Turbo.
5
The Lighter Syclone Was Faster Than The GMC Typhoon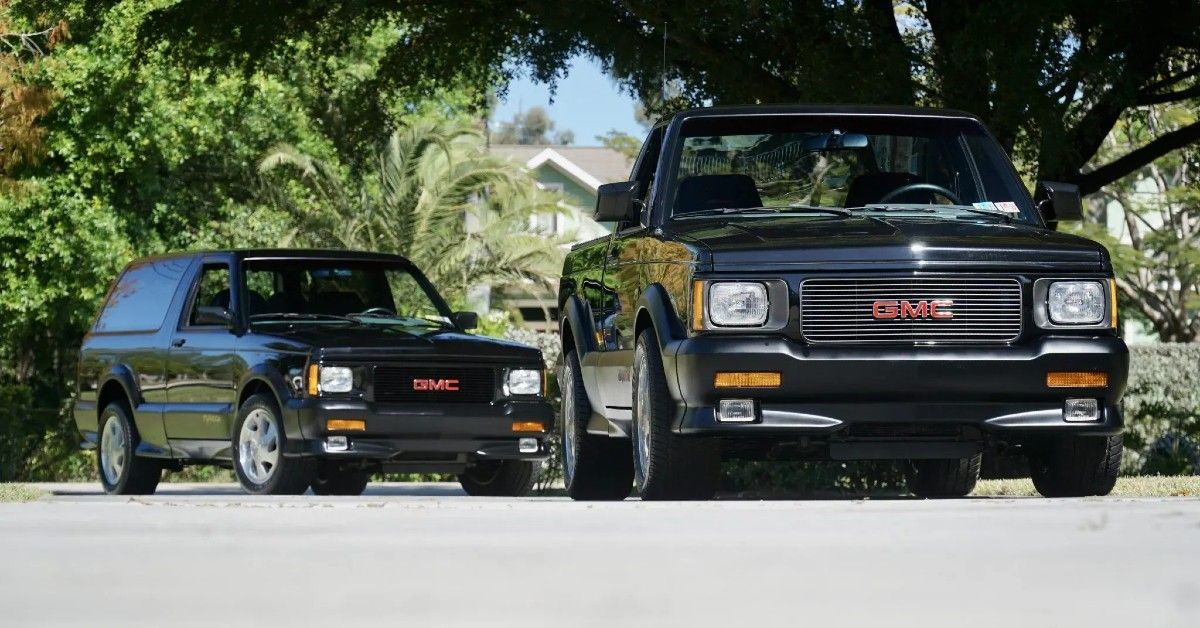 GMC's special turbocharged V6 made 115 more horsepower and torque each, greater than you got from its Chevrolet contemporary, the Sonoma's non-turbo 4.3-liter V6. What made the GMC V6 special were several modifications, including lower-compression pistons, special intake, and exhaust manifolds, and a multipoint fuel injection system. It also borrowed a bigger twin-bore throttle body from Corvette's 5.7L small-block and took a Mitsubishi TD06-17C turbocharger with a Garrett water-to-air intercooler.
Since the Syclone weighed 3,599 pounds and the Typhoon came heavier, at 3,822 pounds, the former was faster. GMC claimed the Typhoon notched a 0-to-60 mph run in 5.3 seconds, which is still impressive enough.
Dimensions & Performance:
| | | |
| --- | --- | --- |
| Category | Typhoon | Syclone |
| Wheelbase | 100.5 in | 108.3 in |
| Length | 170.3 in | 180.5 in |
| Width | 68.2 in | 64.8 in |
| Height | 60.0 in | 60.0 in |
| Curb weight | 3822 lb | 3600 lb |
| Top speed | 124 mph | 126 mph |
| 0-to-60 mph time | 5.3 seconds | 4.6 seconds |
RELATED: Here's Why 2023 Is A Great Year To Buy The GMC Syclone Pickup Truck
4
There Were More Typhoon Than Syclone But With Limited Production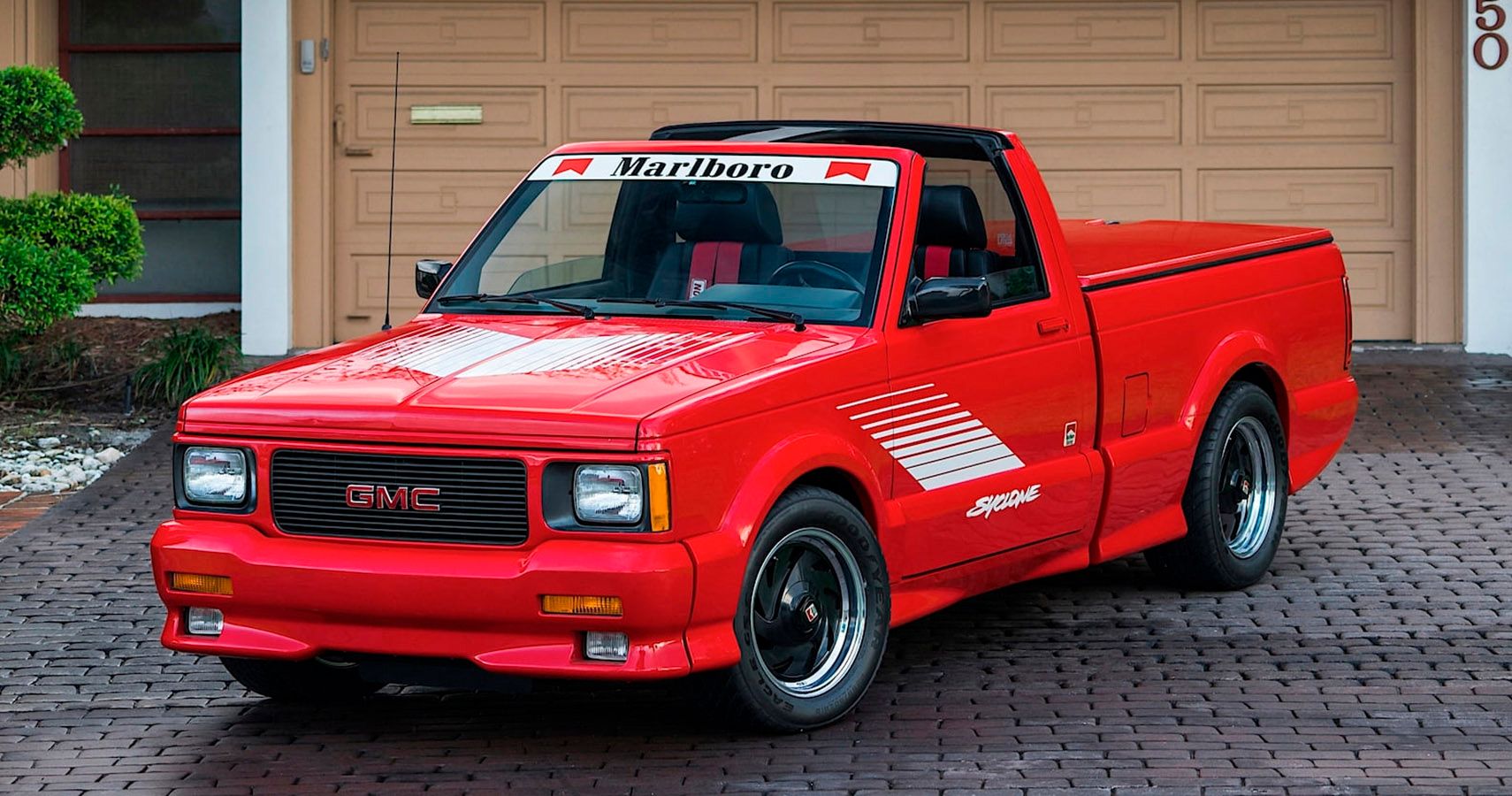 GMC debuted the Syclone first, based on the Sonoma. In 1991, GMC rolled out 2,995 Syclone examples, as per Mecum. Out of these, 113 went to the Middle East but 31 came back, unsold. These were sold off to GMC employees via lottery. For 1992, GMC made only three more before shelving the Syclone, though they were short only two to reach a 3,000 production number.
In 1992, GMC brought out the Jimmy-based Typhoon, rolling out 2,497 examples. For 1993, they made another 2,200 for a total of 4,697, yet again three short of a round number (4,700). GMC never commented on whether these odd numbers of production happened by deliberate choice, or not.
3
GMC Typhoon Came More Colorful Than Syclone With Two Exceptions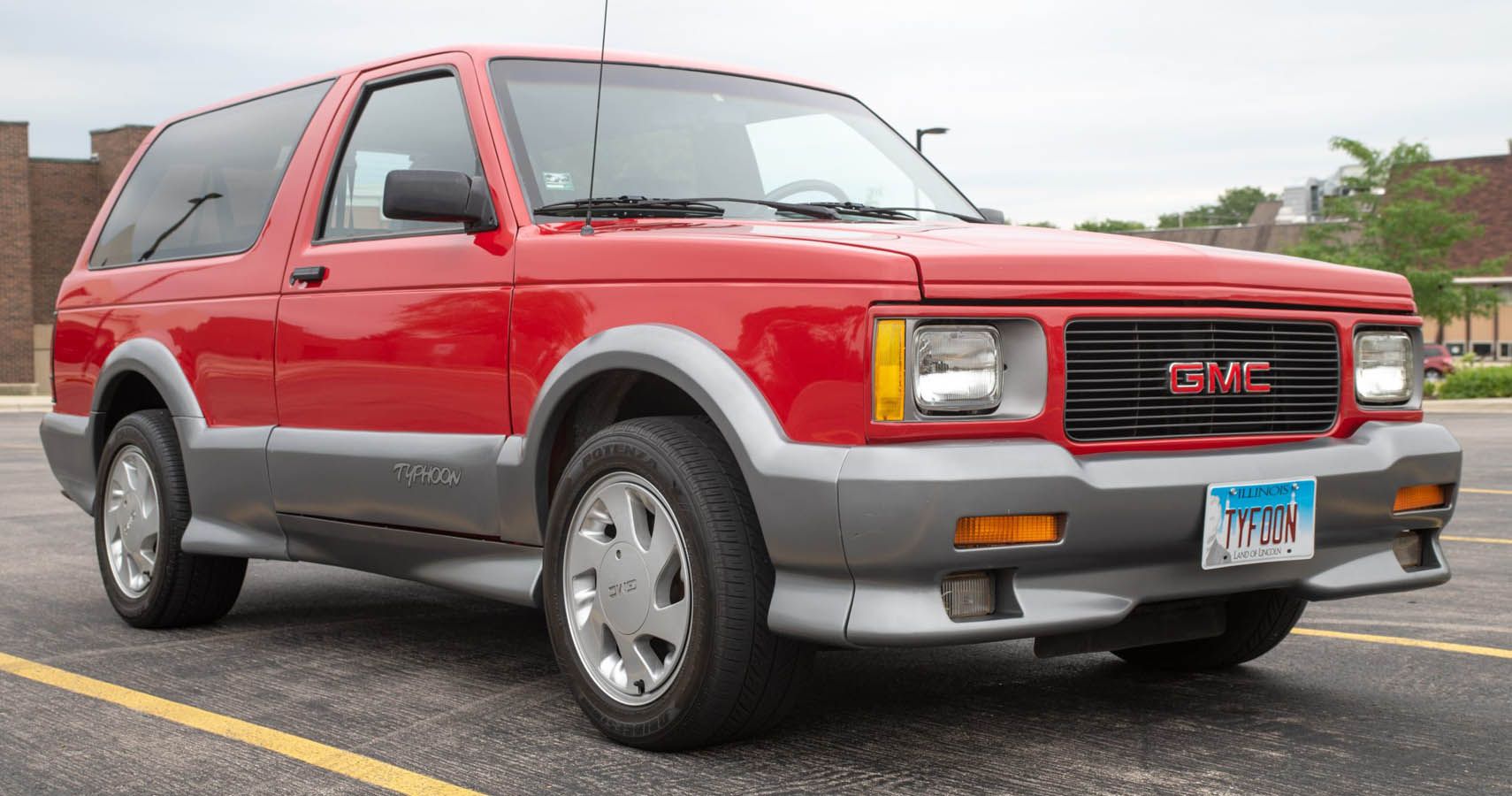 GMC made the Syclone come in only black, except for two exceptions. There were ten red Syclones customized by American Sunroof Company (ASC) for Marlboro. They came with special features like Boyd Coddington wheels, Recaro leather seats, a Momo steering wheel, and a Targa-style removable roof panel. Three Syclone examples took part in the 1992 Indianapolis 500 race (probably the only three made that year) as unofficial pace cars, with one getting a paint scheme and the other two wearing stickers.
However, GMC lavished color on the Typhoon which came in 10 paint options of differing hues of green, blue, pink, white, teal, red, and black.
RELATED: 10 Reasons Why The 1991 GMC Syclone Is An Automotive Icon
2
Despite Massive Power, GMC Priced The Syclone & Typhoon Low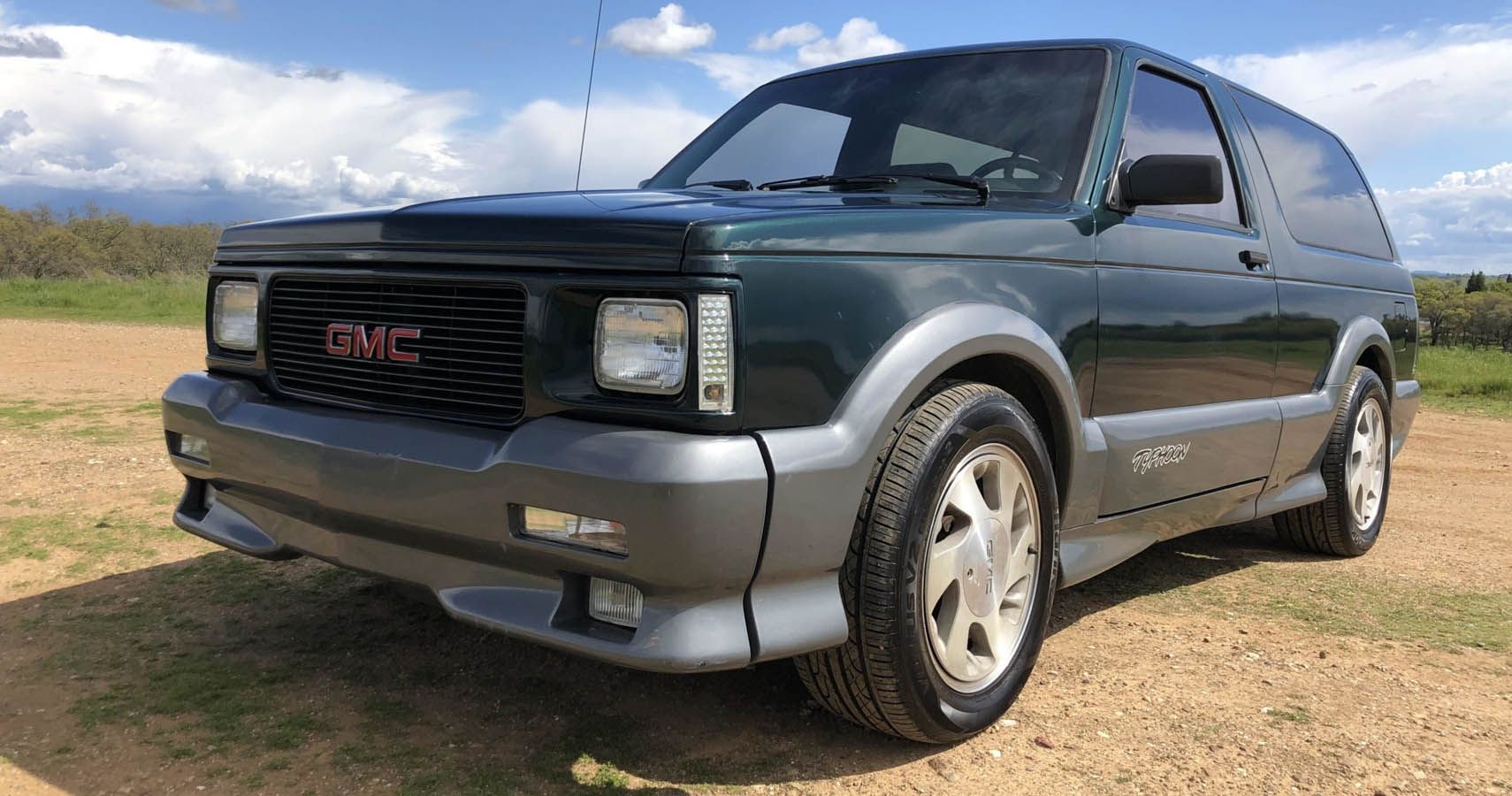 GMC priced the 1991 Syclone at $25,970. Today, this does not sound much to us but at the time, it came more expensive than a Camaro Z28, (which cost $15,445) and even a Mustang GT (priced at $15,034). It was still $7,000 cheaper than the base Corvette coupe, though, and almost $10,000 more than a GMC/Chevy Sonoma.
Meanwhile, the GMC Typhoon, given its inside plush, cost a little more, at $29,530. Despite the slightly pricier tag, it also managed to sell a little better than its pickup truck sibling, but this was not a concept GMC wanted to mass produce.
1
Even As Rare Classics, Neither Demand An Eye-Popping Price
GMC did not make too many of these iconic "SyTy" examples (Sy being the Syclone and Ty, the Typhoon) even though they still storm through neoclassic lists right to the top.
Today, the average price of a GMC Syclone, as per Classic.com, stands around $40,000. That said, they also record a sale price of lower than $13,500 and higher than $108,000, so it all depends on the condition of the vehicle, and the buyer's interest. On the flip side, the more expensive Typhoon commands a lower price on the market, with an average of $30,000, approximately, although the top price recorded stands at $175,000, and the lowest at $8,200.
Source link