As I've mentioned – ad nauseam, some might say – this is a two-wheel drive vehicle so we didn't demand too much of it off-road, if at all.
We stuck to well-maintained dirt roads in dry weather, drove along a few rutted sections of washed-out bush track and traversed a short patch of coastal sand. That was it.
Unfortunately, the 2WD variant is minus what otherwise makes the Pajero Sport so appealing: the Super Select II 4WD system, of which I'm a fan. I've said enough about that absence already, so I'll push on with the yarn.
Owners of 2WD vehicles may be guilty of forgetting that their vehicles are still capable of adventures or assuming that they're not but, in actual fact, those trips off the beaten track simply have to be considered excursions in order to better suit that vehicle's 2WD capabilities.
The good news: the Pajero Sport is better set up for bumpy terrain than other more city-focussed 2WD SUVs. It has official ground clearance of 218mm, not too shabby, and a fording depth of 700mm – although our advice is to avoid driving through any water deeper than your ankle-height if you can.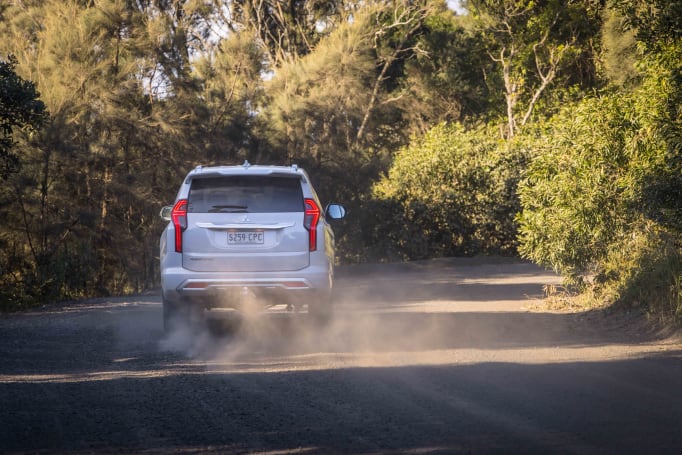 We stuck to well-maintained dirt roads in dry weather (Image: Glen Sullivan).
Approach, departure and ramp breakover angles are 30 degrees, 24.2 and 23.1 respectively, and the Pajero Sport can cope with mildly lumpy terrain.
My advice? Avoid anything beyond a well-maintained dirt track in dry weather and never follow your urge to drive on a track signposted as '4WD/ high ground clearance only', avoid driving through sand and absolutely do not attempt to drive up or down a set of massive rock steps. Anything more rigorous than a dirt track in good nick risks damage to the vehicle's underbody, or mechanical damage or personal injury – or all of those things. Otherwise you'll likely be the star of a YouTube 'Off-road fail' video before you know it. Consider yourself warned.
The Pajero Sport's all-terrain tyres are better suited to driving on the blacktop.
We did a few emergency "Watch out for Skippy!" stops on bitumen and gravel and the Pajero Sport's brakes – discs at the front and rear – hauled it to an abrupt controlled halt without fuss – not surprising for such a middleweight SUV.
Read more about Mitsubishi Pajero Sport
If you plan on using this 2WD SUV as a load-hauler, pay attention: it has a maximum listed payload of 655kg (15kg less than the 4WD version) including a maximum roof load of 80kg. Its listed maximum towball load is 300kg (10kg less than the 4WD version), and its towing capacity is 750kg (unbraked) and 3000kg (braked; 100kg less than the 4WD version). It has a gross vehicle mass of 2710kg (65kg less than the 4WD version), and a gross combined mass of 5410kg (10kg more than the 4WD version). 
So, all in all, it's only a little bit shy of its 4WD stablemate in overall terms of what it can carry and tow.
And if you're looking for genuine or aftermarket gear with which to kit out your Pajero Sport, you are spoiled for choice as there is a huge range of accessories available including bullbars and nudge bars, snorkels, tow bar kits, cargo barriers and more.
Source link