Look at least three ways when weighing up a regular family hauler.
SUV-ival mode is powering Middle Australia's love affair with soft-roaders. Safety-first now translates into elevated ride height to see over other vehicles and relatively compact dimensions to slip through narrow streets and avoid parking dents. Trouble is, physics dictates the higher centre of gravity diminishes cornering prowess, even in all-wheel drive versions.
The regular family carriers, the wagons and large sedans, are as popular as a politician but those who look outside the box will find virtues most SUVs can't match.
Carsguide pits a sedan, an SUV and an amalgam of the two to the test, all within a $40,000 budget.
THE CARS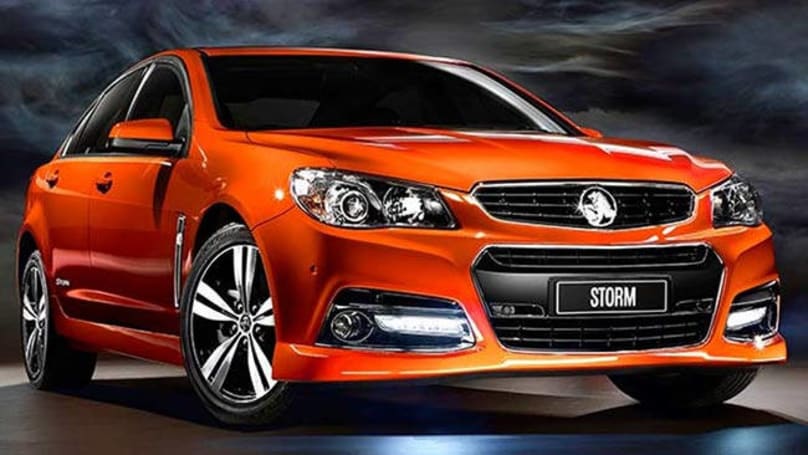 2014 Holden Commodore SV6 Storm
Holden Commodore SV6 Storm
Price: $36,490 
Warranty: 3 years/100,000km 
Safety: 5 stars (6 airbags, 35.06/37 ANCAP rating) 
Engine: 3.6-litre V6, 210kW/350Nm 
Transmission: 6-speed man; RWD 
Thirst: 9.0L/100km, 215g/km CO2 
The SV6 is the private buyer's entry point in the Commodore range. A run of limited-edition Storm variants has helped reinstate the big sedan as Australia's third best-selling car, behind only the Mazda3 and Toyota Corolla.
In this guise, it's a lot of car for $36,490.
Auto-parking software negates the 'it's too big to drive" complaint by steering the vehicle into reverse or parallel bays.
Good thing, too, as the reversing camera, while accurate, doesn't have the overlaid guidelines my wife finds so reassuring. Instead, an exclamation mark within a triangle changes colour from amber to red as the Storm's rear closes in on obstructions.
An eight-inch touchscreen now includes satnav (it was a $750 option) and there's an embroidered Storm decal on the dash, along with red stitching throughout the interior to reinforce the sporty image.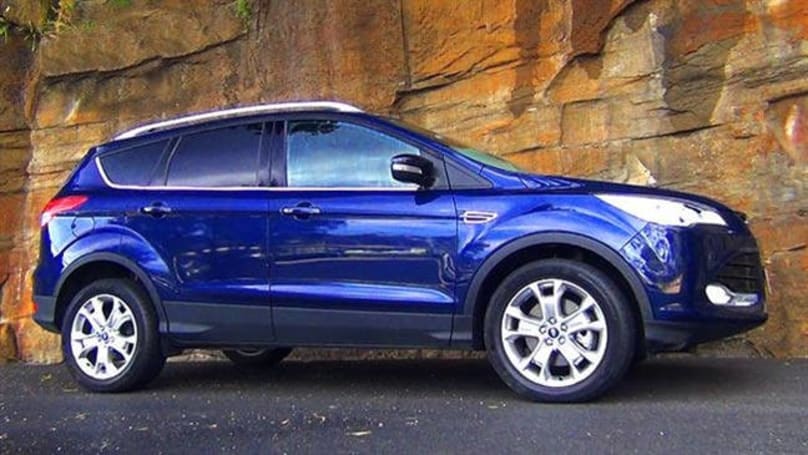 2014 Ford Kuga Trend
Ford Kuga Trend
Price: $36,240 
Warranty: 3 years/100,000km 
Safety: 5 stars (7 airbags, 36.33/37 ANCAP rating) 
Engine: 1.6-litre 4-cyl turbo, 134kW/240Nm 
Transmission: 6-speed auto; AWD 
Thirst: 8.0L/100km, 186g/km CO2 
What's in a name? Plenty apparently if you're a fortysomething woman picking up your son's nearly adult friends in a Kuga. Unfortunate name association aside, the Kuga has kicked along for Ford, too, giving the Blue Oval a much-needed and very capable presence in the mid-sized SUV class.
Carsguide drove the Trend version, $36,240 before on-roads and fitted with most of the expected toys, from auto headlamps to dual-zone aircon.
However it takes a $2650 option pack to fit the latest safety tech – active cruise control with adjustable distance limit to the vehicle ahead, low-speed collision mitigation, blind spot and lane departure warning. It adds around 7.5 per cent to the base cost but tick the option box.
The Kuga uses a relatively small but clear 4.2-inch colour infotainment display and uses parking sensors in lieu of a reversing camera, which, along with auto-parking, can only be had in the range-topping Titanium variant.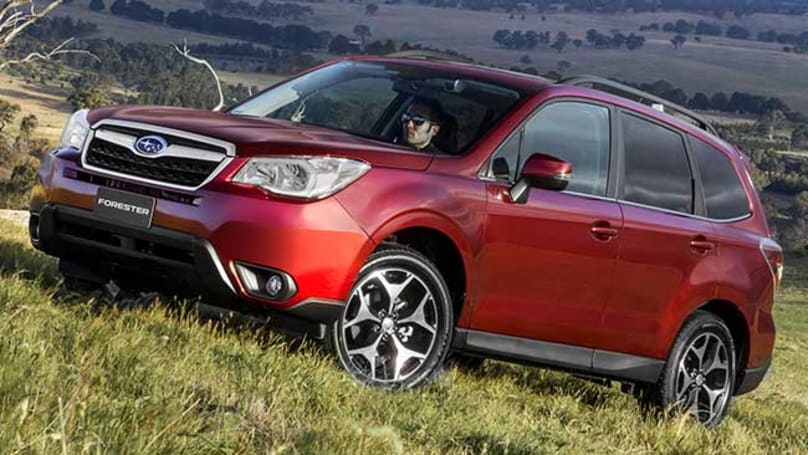 2014 Subaru Forester
Subaru Forester 2.5i-L 
Price: $35,990 
Warranty: 3 years/unlimited km 
Safety: 5 stars (7 airbags, 35.64/37 ANCAP rating) 
Engine: 2.5-litre 4-cyl turbo, 126kW/235Nm 
Transmission: CVT; AWD 
Thirst: 8.1L/100km, 187g/km CO2 
All-wheel drive has been part of Subaru's DNA long before it became a trendy selling point. The Forester epitomises this approach – in the US it is classified as a wagon rather than an SUV and so isn't obliged to fit a label on the sun visor warning of the rollover risk.
The Subaru still can ascend a slippery dirt track, bolstered by an 'X-Mode" button that adjusts shift points in the continuously variable transmission and automatically engages hill-decent control for extra stability.
It's no coincidence the Forester will take a pair of mountain bikes with the rear seats folded.
The chunky looks and elevated seat height endow it with semi-SUV styling but, like the Kuga, the high-end safety systems are a $1500 option. The 'EyeSight" pack adds a pair of windscreen-mounted cameras that regulate the active cruise control and collision mitigation systems, coupled with lane departure warning.
DRIVING 
It may be the on the way out but the Commodore outclasses its rivals here in terms of driving refinement and room. Holden's decades of developing suspension and steering for Australia gives the SV6 Storm an edge in dealing with ruts and bumps at any speed.
The Kuga and Forester handle themselves well but they are stiffer-sprung to help offset the body roll that comes with a taller stance. As a result they can jar on sharp-edged potholes around town. In isolation it isn't an issue; driven back-to-back against the Storm it is obvious.
It is hard to pick between the Holden and Ford for steering feel and feedback. Both are set up to give the driver tactile reassurance the wheels are pointing where they've been aimed. The Subaru is nearly as direct but lacks the responsiveness of the others.
The trip meter also turns in the Commodore's favour. An 80km test loop that includes 30km of traffic-light trawling shows all three using just on 11L/100km.
That's a great effort for the Holden V6; far less impressive from the Kuga's 1.6-litre engine, which suffers the double whammy of easily being the slowest of this trio to reach the signposted speed.
In tacit acknowledgment, Ford will fit Kugas sold from December with a 2.0-litre turbo engine that should improve economy and acceleration.
The Commodore also wins (on paper) the battle of the boot. In doing so, it shows why outright capacity isn't the best real-world assessment. It will handle a lot of gear but the relatively low boot means loading something like a mountain bike is more fiddly than in the other two.
The turning circle test goes to the Subaru. It will about-face in 10.6m, against 11.1m and 11.4m for the Ford and Holden respectively.
What hurts the Commodore in this company is its resale value. Glass's Guide posits the Holden's resale value at just 40 per cent after three years – presumably because there won't be another incarnation. In contrast the Ford holds 48 per cent of its new price, the Subaru 52 per cent.
Rear room is a no-brainer – the Commodore was built to take five tall adults and is the most comfortable car to travel in with three in the back.
VERDICT 
Get over the big car phobia and the Commodore is a clear winner. Learn to use the auto-parking software and there's no reason why buyers shouldn't put it at the top of the list. Off-road ability and all-round practicality put the Subaru second, with the Kuga third, if only by virtue of a drivetrain that isn't as well-sorted as the rivals.
Source link