Summary
The team at The Fast Lane Truck are passionate about powerful and interesting pickup trucks, and their latest episode focuses on a legendary OBS truck from the 90s.
This particular truck, a 1997 Ford F-250 Super Duty Powerstroke diesel, gets described as the best truck money can buy due to its powerful 7.3-liter Powerstroke turbo diesel engine.
While the Ford F-250 may not be the fastest truck on the market, it is slow and steady, built for towing and hauling heavy loads.
The Fast Lane Truck is a team of automotive YouTube content creators, united by their unflinching love for all things big and utilitarian. That's not strictly true, as pickup trucks that feature on their channel must also be exciting, interesting, or just plain powerful.
In their latest episode, the focus is a truck notable for its legendary status as an extremely flexible OBS. 'Old Body Style' trucks refer to the boxy style employed by American automakers on their trucks during the 90s. As always, they must guess the make and model of what they are going to buy, which manages to keep their co-host guessing until they arrive at the seller's house. This, it's promised, is the best truck money can buy, and it's not a Ford F-150 Raptor R.
RELATED: 10 Japanese Pickups That'll Last You 500,000 Miles
A 1997 Ford F-250 Super Duty Powerstroke Hides A Few Secrets
They pull up the truck that's for sale. It's not immediately clear why this is the best one money can buy, but the long F-250 diesel is one of the 90s greatest workhorses.
Under the hood is the 7.3-liter Powerstroke turbo diesel V8, which made around 215 hp and 425 lb-ft back in the day. With an 8-ft bed up back, spare parts, a toolbox, and no signs of rust it's a well-cared for 90s pickup. It's only done 150,000 miles too, but there are some important secrets waiting inside.
In the cabin, it becomes clear that this is an automatic-to-manual F-250 conversion, and that's not all. There are upgrades to the powertrain with a new turbo and intercooler, as well as a few other mods.
RELATED: Find Out If The Ford F-150 Raptor R Can Beat A Cummins-Equipped Diesel In This Towing Face-Off
Is The 1997 Ford F-250 Powerstroke A Good Truck?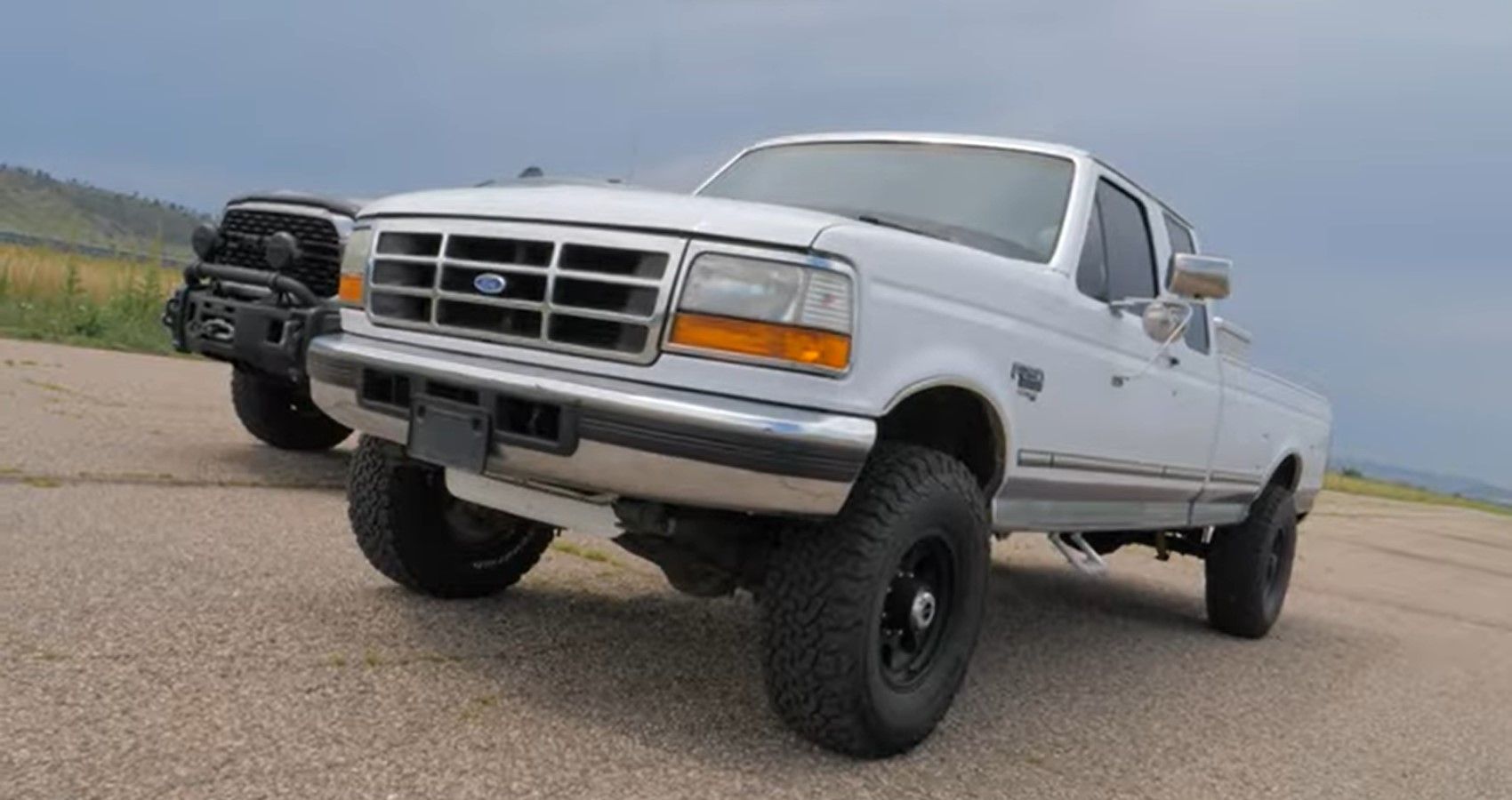 The team like the all-wheel-drive classic truck, and even more so knowing that it has some extra shove from the upgraded engine. It sounds great on startup. With so much character, a legendary reputation, and the ability to tow around 10,000 lbs, the team take home the pickup truck. But it's not headed to the garage for some cleaning-up, it goes straight out to the rag strip to take on the team's modern Cummins-equipped diesel truck.
It loses to the Ram, but the Ford isn't a legend for its speed – it is slow and steady, its owner says. Built for towing, hauling and anything in between, the F-250 is undeniably useful, whether equipped with the gasoline or diesel V8. Diesel engines offer lots of low-down torque which aids in pulling heavy loads, but the smoky oil-burners aren't for everyone.
This F-250 offers old-school design, reliable mechanics and an analog experience, at odds with the latest gear-laden mega-machines. Perhaps that's why the team are in love with the ´97 Ford OBS.
Source link