Summary
This 1964 Chevrolet Impala SS restomod is the meanest one of them all, wide fender flares, and even wider rims.
The custom modifications include X-shaped LED headlights, side-exit exhausts, and much more
The twin-turbocharger setup under the hood suggests high power and torque, and the cabin features a digital driver's gauge.
A 'restomod' is an umbrella term a little open to interpretation, but we mostly have a good idea of what it means. Sometimes classic car restomods are subtle, sometimes they are bolder. Then you get to this: the 1964 Chevrolet Impala SS by HotCars digital artist Timothy Adry Emmanuel.
When flicking through all the Impala SS restomods out there, the idea somehow came to be, to create the meanest one of all. That's what we have here.
This render takes the original '64 Impala SS: an elegant, three-box luxury coupe (or convertible) and then applies a raft of changes and modifications that leave it looking like a different beast. Let's dive into the Impala to see what a restomod looks like when all the parts bin has gotten thrown at it.
RELATED: Here's Why Our Fastback Version Of The Short-Lived AMC Rebel Machine Shows Promise
Making The Baddest, Meanest ´64 Impala SS Restomod
Parked up on the beach boulevard the widebody classic car looks menacing. A purplish-blue coat of paint splashes across a lowered body, with wide fender flares housing new rubber.
The new wheels are an interesting topic, comprising wide rims and sticky tires, and the front wheels have a flat disc design. At each corner, the wheels stick out on an insane widened track.
Side by side with an unmodified ´64 Impala SS, you would pick up on the rear wheel fender skirts (or spats as they are also called). The front end is also vaguely recognizable, but the quad headlights are now in a flush recessed grille area, and boy are they interesting. These X-shaped LEDs make sure the custom Impala stands out from the crowd at the casino.
A custom racing-style front bumper and rear diffuser look aggressive and functional, suggesting high speed-potential. Side-exit exhausts look loud.
RELATED: Red, White And Blue: Muscle Car Restomods Don't Come More American Than Our AMC Rebel Machine
How Much Is A 1964 Chevy Impala SS Worth Today?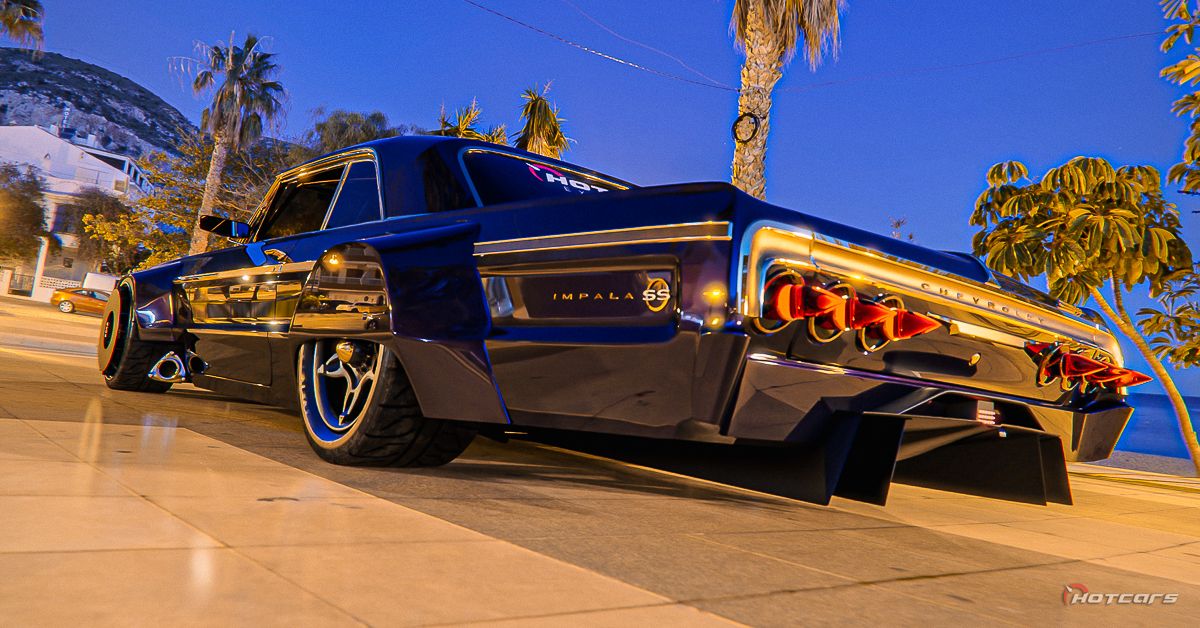 We imagine that it would be fast and loud too, with the obvious twin-turbocharger setup that emerges from the long flat hood.
Considering the original ´64 Impala SS came with a maximum of 425 hp and 425 lb-ft from its 6.7-liter V8, the addition of two turbochargers would surely provide huge numbers. It's more likely that under the hood of this beast would be an LS V8 engine swap perhaps, with two turbines forcing additional air into the engine for high power and torque.
Inside the cabin of the render model, we can see another popular restomod render feature: the digital driver's gauge, along with a standalone speedometer to see how fast that twin-turbo V8 is taking you.
The 1964 Chevy Impala SS is not a super-rare or super-expensive classic car at auction, so building your own monster could be off to a quick start. Examples of the ´64 Chevrolet Impala commonly change hands for about $34,000 at auction when equipped with the desirable 425 hp V8.