Home
Toyota Will Build Subaru's Electric Three-Row SUV In The U.S.
Summary
Toyota and Subaru are collaborating once again to produce a new three-row electric SUV. Toyota will handle American production at its manufacturing facility in Kentucky.
This marks the third collaboration between the two automakers, following the Toyota GR86 and Subaru BRZ sports cars and the Toyota bZ4X/Subaru Solterra electric compact SUVs.
The new SUVs align with both companies' EV strategies, contributing to their goal of launching a combined total of 21 new electric models by 2026. Local production and battery sourcing will offer financial benefits and avoid production disruptions.
In the auto industry, it's common for automakers to collaborate with others. Toyota has done this before when it collaborated with Subaru to build a new sports car and a new electric crossover. Now, the Japanese brands are doing it again for their new three-row electric SUV.
This time, Toyota will take care of the American production of the SUVs at its manufacturing facility in Georgetown, Kentucky, with Automotive News reports citing sources privy to the matter.
Third Toyota-Subaru Twin Slated For US Production
According to the report, Toyota and Subaru are working on their third twin vehicles. The automakers had collaborated twice before. The first collaboration resulted in the Toyota GR86 and Subaru BRZ. The second one was more recent, leading to the arrival of the Toyota bZ4X and the Subaru Solterra electric compact SUVs. As for their third collaborative work, an electric three-row SUV for each brand will arrive.
Toyota will first build its own three-row SUV at the Toyota Motor Manufacturing Kentucky (TMMK) in 2025. Shortly thereafter, it will build Subaru's version, Automotive News says. Toyota's offering would bear the name bZ5X – "bZ" for "Beyond Zero," "5" for the vehicle size, and "X" for crossover or SUV – while its Subaru twin remains unnamed. It's quite easy for Toyota to enter into such an agreement with Subaru, as it owns 20% of the latter.
Planning-wise, Subaru and Toyota's upcoming electric three-row SUVs are in line with their EV strategies, respectively launching six and 15 new models globally by 2026. Both Japanese companies are catching up with other automakers, and this EV collaboration wouldn't just save development and research cost for them, but also time and production expenses.
They realized this with the bZ4X and Solterra, and are now continuing the relationship with their newest agreement.
RELATED: How Do They Stack Up: 2023 Toyota bZ4X And 2023 Subaru Solterra
U.S. Production For New SUV Opens Up Several Benefits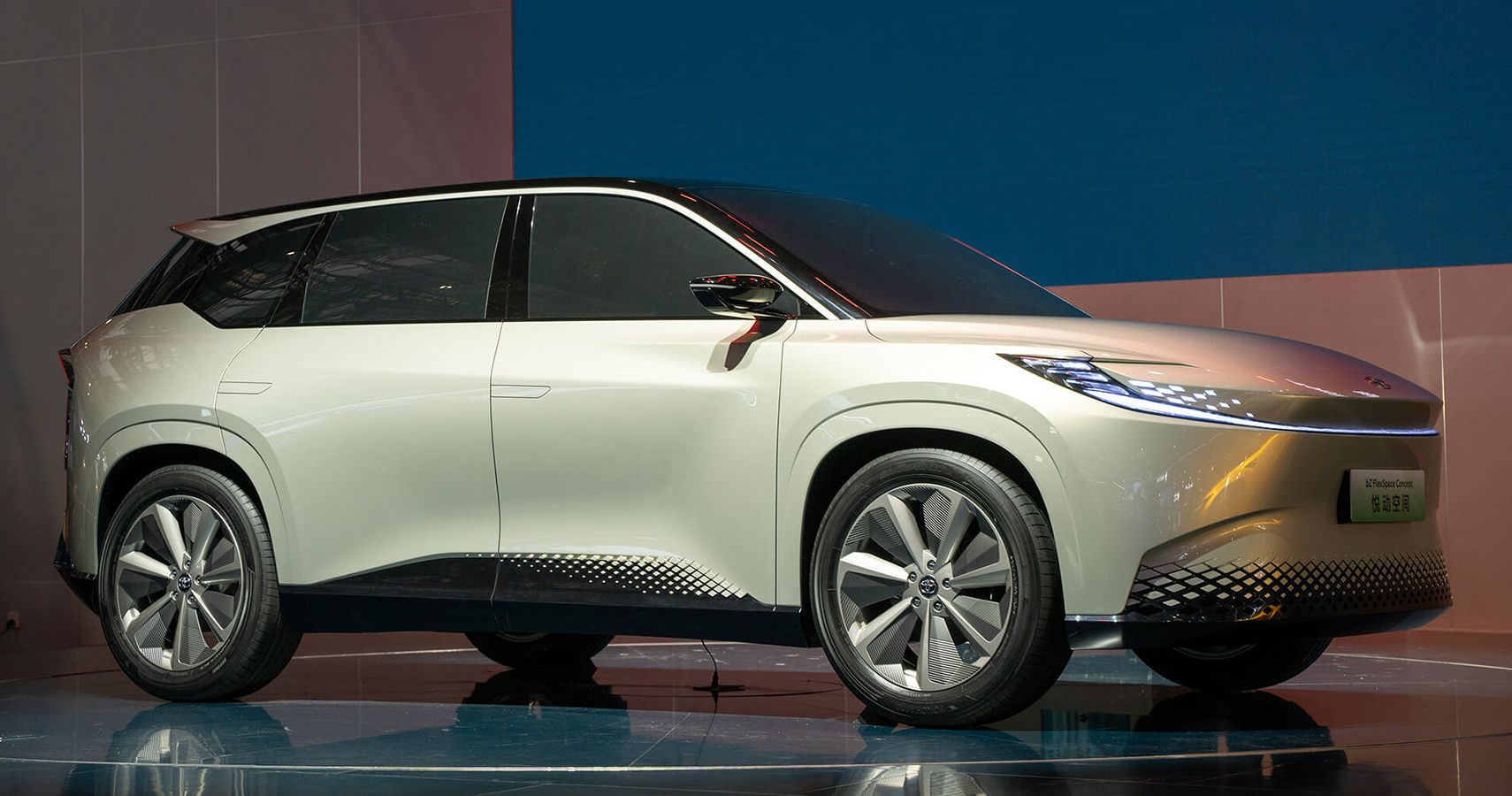 Building both the Toyota bZ4X and the unnamed Subaru SUV at TMMK wouldn't just save cost for both automakers, it would also make these electric three-row SUVs more financially appealing to customers.
Despite beings EVs, the bZ4X and Solterra aren't qualified to benefit from the Inflation Reduction Act of 2022. The act provides up to $7,500 in federal tax credit for electrified vehicles assembled in North America. Production of the bZ4X and Solterra are in Japan.
For their upcoming electric three-row SUVs, the Japanese automakers could also take advantage of the fact that they could source their batteries locally, particularly from Toyota's battery plant in North Carolina. This factory is still under construction, but when it becomes operational in 2025, it should allow Toyota to remove one important EV component as a possible supply bottleneck.
With its new electric three-row SUV slated for production at TMMK, Subaru doesn't need to further invest millions of dollars to retool its manufacturing facilities in Lafayette, Ind. It also doesn't have to pause production of Ascent, Outback, Crosstrek, and Legacy at the plant. Toyota is currently retooling TMMK to accommodate the production of its electrified vehicles.
Source: Automotive News, Toyota, Subaru
Source link